FreeVario for OpenVario




FreeVario (www.FreeVario.de) shows the average climbrate (30s), the altitude (MSL or AGL), the speed (GS or TAS), the MC, the QNH and the bug value. MC, QNH, or bug value also can be set here and are passed on to XCSoar. In addition, a colored bar, which represents the climb value that can be grasped quickly, shows the current climb. The bar shows climbing in green and falling in red. The acoustic display of the climbing value is as known by other e-Varios and no longer has to be generated by the OpenVario. The OpenVario can therefore issue airspace warnings again. To do this, however, the OpenVario has to be reprogrammed somewhat, instructions will be included in the building instructions. The McCready, QNH or bug value can be set with the encoder above. A long press on the encoder opens the menu. The volume of the vario tone can be adjusted with the lower rotary knob. The toggle switch can be used to switch between speed to fly and the vario. In the middle position, XCSoar or a switch attached to the flap automatically decides whether speed to fly or vario should be active. 
On the back are an RJ45, a 2.5mm audio jack and a small 3-pin socket. The FreeVario is connected to the OpenVario via the RJ45 socket. An external speaker can be connected to the 2.5mm jack socket. The internal speaker is then automatically deactivated. The small 3-pin socket can be connected to a switch on the flaps. In addition, the transmit button from the radio can be connected here. The FreeVario is then muted when radio is being used.
The e-Vario fits into a 57mm standard cutout. The housing has the dimensions: 65x65x90 (LxWxD) and is printed out with a 3D printer made of PETG. 
If you don't dare to build the FreeVario yourself, you can have it built by me. Just write me an email to Diese E-Mail-Adresse ist vor Spambots geschützt! Zur Anzeige muss JavaScript eingeschaltet sein! , I will make you an offer.
The FreeVario is not EASA or FAA certified. Note that this is exactly the same for all the fancy commercial electronic varios and flight computers you are probably used to.
If you like to know, if you are allowed to use it legally at your glider ask this question to your airworthiness inspector. Can you legally install any other big brand (as well, non certified) vario gauges? If yes, you should also be able to legally install FreeVario. If you are under EASA rules see CS-STAN, standard change CS-SC402a.
This instrument is a craft project and not an aviation-approved instrument. I explicitly point out that the use is made under exclusion of any warranty at your own risk!
With a click on the pictures or the video they are shown bigger in a separate window.
test flight: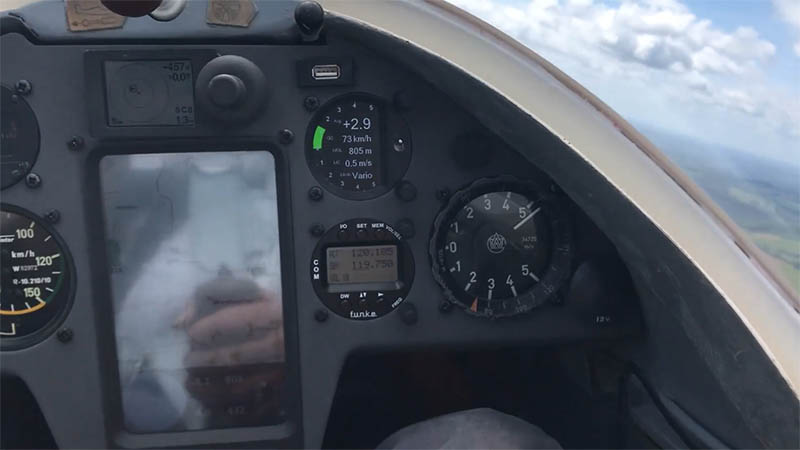 menu of the vario gauge: